Classifieds for karts, kart parts and accessories.

Moderator: Bob Schabel
by Michael Johnson » Mon Jun 08, 2009 10:40 pm
2007 Arrow AX9 BMax chassis with Rotax senior engine - $4,500
Very fast race winning kart driven for only one season.
- 32mm chassis with 50mm axle.
- kart has fully adjustable front end (castor, camber, toe)
- Arrow suede steering wheel
- Dark blue chassis with black Arrow bodywork and graphics kit
- Medium kartech seat is fitted to kart
FR125 engine is sealed and comes with passport for RMax challenge competition or TaG.
This kart has been professionally built and maintained.
For inquiries PM or Call Michael Johnson at 214.405.0600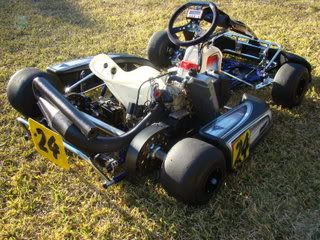 Posts: 20
Joined: Mon Mar 19, 2007 2:18 pm
Location: Dallas, TX
---
Who is online
Users browsing this forum: Google [Bot], Yahoo [Bot] and 1 guest